Small Bowl with Cat and Heart
$

26.00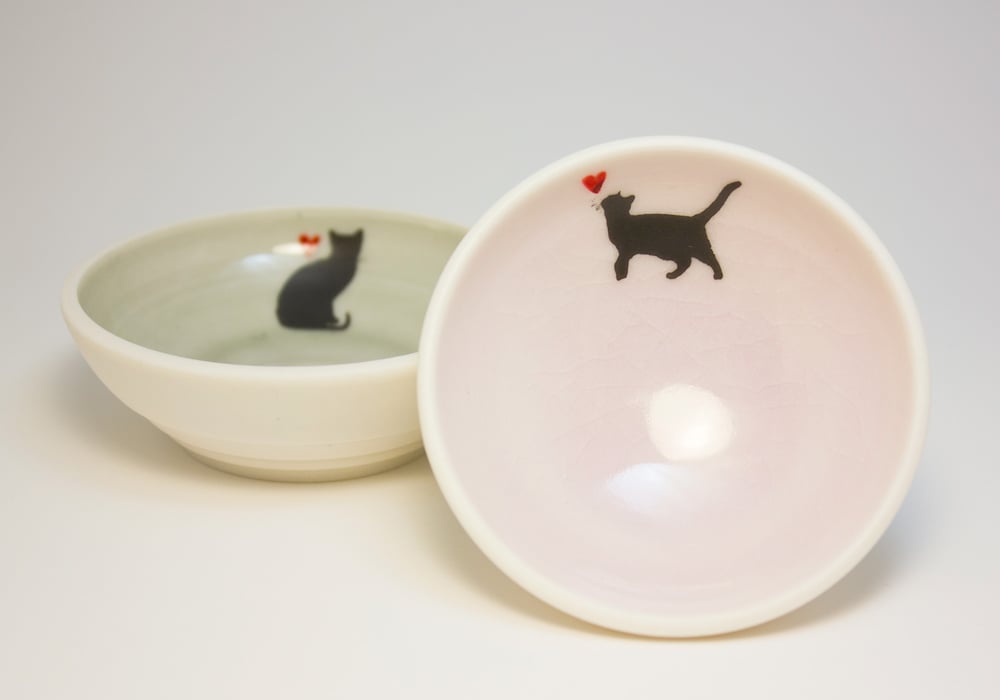 A safe spot for rings when not being worn, these petite bowls with cat silhouettes are sleek and minimal with a bare exterior and a pretty pop of interior color. They're also convenient for tidying up the random little things lying about. No longer must knick-knacks, spare buttons, and loose change be homeless!
• Interior glazed in a certified lead-free, food-safe colorful glaze with a smooth matte unglazed exterior.
• Adorned with a sweet cat silhouette (18k gold/white gold/black/blue) and hand-painted heart.
• Smooth-sanded base to help prevent marring of table surfaces.
• Sleek design displays nicely within a variety of interior design aesthetics.
• Hand-wash only. Use care when cleaning textured surface. Care Instructions included.
• All materials used to create this item were manufactured in the USA, including the porcelain, glazes, and packaging materials.
• Every item is made by hand, by me, in my Los Angeles studio.
PRODUCT DIMENSIONS
Sizes vary because they're individually thrown.
Average dimensions: 2.75" W x 1.25" H
~1-2 fluid oz capacity
~ 1/8 – 1/4 cup capacity
OPTIONS:
18k gold/white gold luster decal + hand-painted heart.
Black/blue cat decal + hand-painted heart.
** Many are currently in stock. Please allow 3-4 weeks for custom orders to be made, packaged, and delivered.
Share